The harvest season arrives and dozens of places are preparing to bottle their best grape juice. And to celebrate, what better than a little (or a lot) of dancing and singing. We review the flamenco festivals washed down with wine in August and September.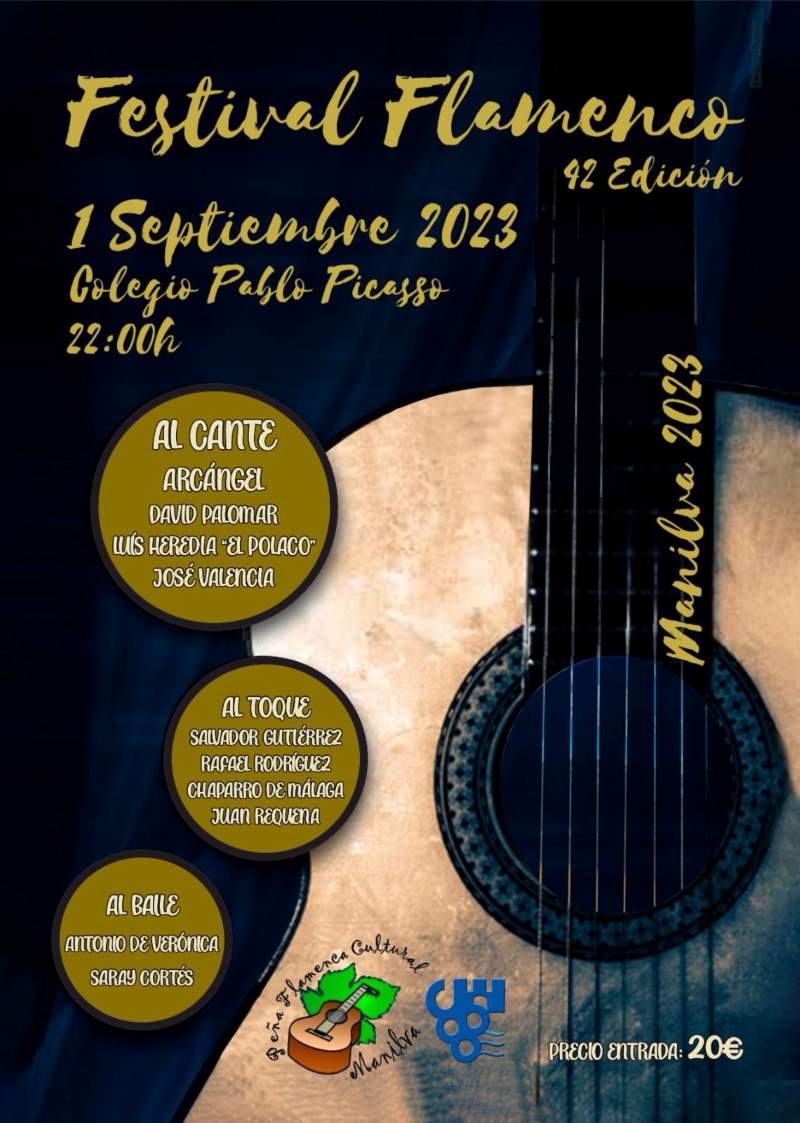 Harvest Festival in Manilva
This party is in its 42nd edition. Every year it is celebrated just one day before what will be the great celebration dedicated to the grape, declared of provincial tourist singularity. Manilva pays tribute to the farmers who have been responsible for preparing Malaga wines.
The poster of this 2023 is a luxury. Singing will be Arcángel, David Palomar, Luis Heredia El Polaco and José Valencia; to the touch, Salvador Gutiérrez, Rafael Rodríguez, Chaparro de Málaga and Juan Requena; and, to the dance, Antonio de Verónica and Saray Vargas.
1 September 2023 – 4 September 2023
Tasting in
Montilla-Moriles
We continue touring the flamenco harvest festivals and we go again to Córdoba, to Montilla-Moriles. The Flamenco Tasting is 48 years old and Fosforito, Camarón, José Menese or Machena have passed through it.
For this 2023, they have Argentina and its group to sing; Antonio Mejías from Montilla; the director of the Cátedra de Flamencología de Córdoba, the Ponteño cantaor David Pino; the cantaor from Cádiz David Palomar; and, to the touch, Bolita and Niño Seve, among others.
2 September 2023 – 17 September 2023
Harvest Festival in Jerez
This celebration holds the recognition of tourist interest internationally. The festivities pay tribute to the three iconic pillars rooted in the culture of Jerez de la Frontera: wine, horses and flamenco. Treading the grapes, the gastronomic offer, the street theater, music and popular culture permeate the streets with an atmosphere of entertainment and joy. The festivities include flamenco presentations, equine parades, equestrian demonstrations and vineyard tours, as well as wine tastings and exhibitions. And a wine market is set up where visitors have the opportunity to taste the distinctive products of Andalusia. Flamenco will be enjoyed, above all,in tabancos of Jerez, as in El Pasaje.
8 September 2023 – 10 September 2023
The whole population of Monilla, in Malaga, is full of activities, exhibitions and a lot of flamenco. From jun show playing zambras to parade flamenco dresses. In addition, the organization encourages to go dressed and dressed for the occasion and participate in raffles of traditional Andalusian clothing. In fact, it has a fair atmosphere by day and a festival by night.
The festival is organized in collaboration with the Cooperative Virgen de la Oliva, Tierras de Mollina and the Regulatory Council of the Denomination of Origin Málaga and Sierras de Málaga.
Flamenco and harvest in August
In mid-August, Cómpeta celebrates its Wine Night with flamenco level. This year have enjoyed El Pele, Israel Fernández and flamenco paintings. In this area of muscatel grapes, the cante always passes through the verdiales and fandangos of the area.
Success in the Flamenco Harvest of Doña Mencía,a festival born in 1970, the second longest running event in the province related to flamenco festivals. El Pele, Rocío Luna al cante (winner of the Mining Lamp of La Unión) and La Talegona al baile are some of the artists who performed on August 19.
The XXV Festival Flamenco de los Santos de Maimona takes place within its Harvest Festival from August to September. On August 29 was chosen to perform Dani Castro, the guitar by José Ángel Castilla, Esther Merino and Niño Seve.